Aloha!
Two blogs I started following recently are

What Jean Likes and Local Sugar Hawaii. These two girls are both from Hawaii. I first started my blog when the hubby and I ventured over to Hawaii to live for a few months. It doesn't take living there long-term to know how beautiful it is there and how freaking AWESOME the people are. :)
I LOVE looking at their pictures and places they go to in Hawaii. I can live Hawaii through their blog while I'm now in the Arizona desert. Love these two girls and am happy they are featuring me on their blogs today. I thought I'd share a picture of the hubby and I while living in Hawaii. I thought it was appropriate because Nicole from Local Sugar Hawaii has had a few stalker posts on Jack Johnson. :) Ha. Thanks for stopping by!
--Featured Blog of the Week: --State of Shenanigans--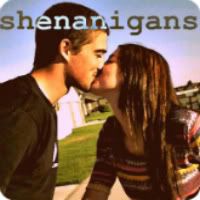 State of Shenanigans is a wonderful and lovely blog written by Elizabeth about her life with her husband Ryan and all of their adventures. I personally love her blog and was so pleased when the Rafflecopter randomly chose her as the winner for blog spotlight of the week!!! I forgot to notify her until tonight oops!! Sorry Elizabeth! So I just wanted to put a quick blurb here. She has wonderful pictures and posts about her life and she also has wonderful recipes that I guarantee you'll want to try!!
This is all about sharing the Aloha spirit with other bloggers out there and helping each other to gain some exposure and find some awesome blogs to read!!! You don't have to be from Hawai'i to participate! In fact, we encourage and welcome people from all over the world to join us on this Aloha Friday Blog hop!
What's neat about our Blog Hop:
**Leave a comment with your blog address if you are new to our hop so we can follow you back**
Remember, if someone follows you, follow them back! Show some Aloha!

Enter YOUR Blog to be the next Aloha Friday's Spotlight Blog of the Week!!
a Rafflecopter giveaway